Curtain Call Challenge has Winnie & Walter as a new sponsor! I love W & W! I used an image from their Scenery: Rectangled & Triangled to watercolor a little panel in the green and blue from the inspiration image. You might think that Happy Christmas is an unusual phrase, but it's more common that Merry Christmas in the U.K. (that and the fact that I don't have the Big, the Bold & the Merry yet may be a factor in why I went with Happy). The blue background paper isn't really that bright IRL, it amazes me how some colors look so different on camera. I'm also putting this in for SSS Wednesday Challenge where the challenge is Christmas/holidays.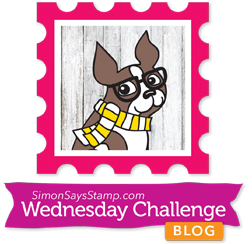 I topped off the watercolors with glossy accents to get more of that clear part of "Clearly Christmas" and the sentiment is embossed with lovely shiny silver EP. The Christmas stamp is PTI.
Thanks so much for Looking!
Karen