Hi everyone!
I have a fun card today! Do you remember those tilt ball mazes you often got as a party favor when you were a kid? You know, the little round plastic ones that you held in your hand. They usually had a picture of a goofy clown and you were supposed to get the silver BB to fall into the hole where his nose was? Yah, those things! I really don't know what they are called but I'll just call them a tilt ball maze until someone corrects me. Anyhow, I made one as a card!!!
Here's a short video of it in action!
If you can't see it, check out stampedgoods on Instagram.
ETA - I'm thrilled to have an Honorable Mention from CASology for my card!
I'm entering this card in four

Five

challenges.
The current MUSE challenge #100 where Michele Ferguson wants us to "accentuate the negative". What better way to accentuate it than to have 3 silver balls rolling around in the negative space trying to land one of them in the center of the bright red heart (similar to the inspiration card)! One Direction has a song called Rock Me so I squeezed in the optional twist of song lyrics (although I think Pinball Wizard would have been a better one!)
SSS Wednesday challenge where It's a Guy thing. This is totally a guy thing! The challenge of getting one of the silver balls in the right hole - what guy could resist? The red heart was stamped with Barn Door DI.
Winnie & Walter are having lots of fun challenges for their 1st Birthday Bash. This is going in for the Shaker Challenge. It's a shaker with a twist, but still a shaker, right?
Casology has a NBUS Challenge - It's the first time using my SSS stitched circles die. I wasn't sure if a shaker card could be CAS but I'm going for it.
ETA- NBUS Challenge #3 Anything Goes - my NBUS is my SSS stitched circles dies & Taylored Expressions embossing folder.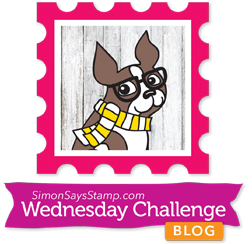 I think I still only have one follower. If you like what you've seen today, please follow me on Bloglovin' or by email.
Thanks so much for looking!
Karen